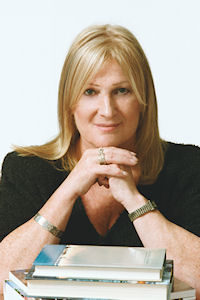 I've always wanted to write novels, and wrote my first at age 8, about two dogs who tried to go into space in a dustbin! Needless to say, that attempt was also consigned to the dustbin, and a busy career as a journalist and mother took up the next few centuries. Eventually, I resumed novel-writing, with a lot more experience of life, which has hopefully added to my skills as a writer.
Still Waters is my sixth novel, and it is about of secrets, especially keeping secrets from those closest to you and what can happen when there is the threat of the darkest secrets being exposed.
Like my previous novels, it alternates between present and past, with the past hopefully revealing the events that made the characters into the people they are today.
People often ask writers where they get their ideas from, and how they create their characters. In my case, an idea is something that niggles in your brain and won't go away until you get it down on paper or onto the computer. The characters tend to form themselves- suddenly they're there, demanding to be given a role to play! Undoubtedly, our individual life experiences help to create the characters that inhabit each writer's novels, but for me, they are never people I know, although their behaviour, looks and mannerisms may have come from several different sources. We've all seen a stranger crossing a road or on a bus whose life we've wondered about.Could that sad-looking woman have just discovered that her husband is unfaithful? Or has she just been told that she's suffering from a terminal illness? And that stooped elderly man – could he have been a daring pilot during World War 2 or a murderer who has never been caught? The possibilities are endless!
I like writing novels- after years of working as a journalist and writing to order every day, it allows me to work whenever the mood takes me. I sometimes work at night, and there's a strange sense of being all alone with my computer while the rest of the world sleeps. I think it's part of my perverse personality- I never want to do things when everyone else is doing them! The great thing about writing a novel is that you've a year (depending on your contract) to produce your magnum opus, so you can do it gradually, or all in a rush. I've done it both ways, and believe me, the former is better, but you get a big adrenalin buzz (i.e.panic) by doing the latter!
I hope you enjoy Still Waters, and that you've enjoyed my previous novels too. If you haven't read them yet, they can still be ordered through the website. Your comments and criticisms are genuinely welcome!